The first in this short series of articles on 'one-off' constructors must surely be the man behind MPH Models - Tim Dyke a fellow Salopian, with three Masers to his credit to date: the Zagato Costin Coupe of 57, a 450S of the same race and a Tipo 61 Birdcage 'Streamliner' of 1960 and another in the offing (he's not telling what, but if it's as good as the others it will be worth waiting for). Tim set up MPH Models after he decided to quit the rat race and become a full time modeller in 1987 having been made redundant three times more or less in succession between his 40th and 46th birthdays, fate was obviously telling him something. Redundancy is an all too common occurrence these days and an event which is shared by some of our constructors.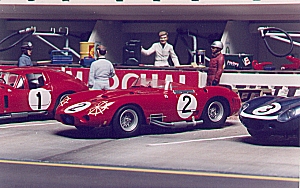 Tim concentrates his artistic talents specifically on the 'Le Mans' racers of yesteryear, the classic era between 1949 and 1965 when the great French Race was contested by cars with character and Masers were in their prime. Cars which were driven rather than steered by men who were heroes: Fangio, Moss, Ascari, Gurney, to name but a few. Tim says of his models "Originating your own model from scratch is an extremely expensive exercise", as you can imagine. His original strategy was to buy the best model of a particular vehicle that was available, then to construct it in strictly limited numbers eg. 20 to 25 after spending forever and a day correcting errors and omissions to make the model as near perfect as is possible. In some cases even altering an individual model to make it fit the exact specification of a specific race. Creating his own models was the next logical step, the idea being to focus entirely on Le Mans cars that had either not been modelled before or ones that had not been modelled to the exacting standards now demanded by the 'professional' collector.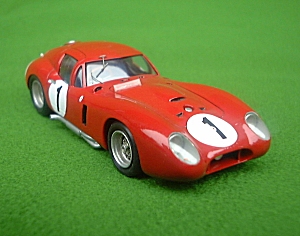 Then as now, Tim devotes an inordinate amount of time to painstaking research prior to production, he says 'The secret is not to hurry, although that's easier said than done when you're trying to earn a living. Patience however is probably the most important quality you need to be a professional modeller, that and a steady hand and eye for detail. The latter is however more of a vice than a virtue with me, when regarded from the hard-nosed business-man's viewpoint, but there again, I consider that there's no point in doing anything, if you don't do it to the best of your ability". It's a long time since I heard someone express that sentiment, it's probably considered old fashioned nowadays and is an ethos which is sadly lacking in the majority of today's society.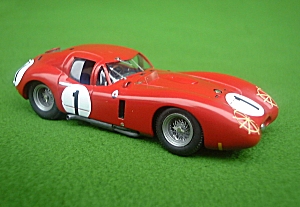 The main raw material for these constructions is polyurethane resin, which Tim says "Provides me with a far crisper finish than metal when working to the 1:43rd scale favoured by so many professional modellers". Tim's 'tool-box' is an Aladdin's Cave of the weird and wonderful and includes a selection of intricate picks and drills, the sort of tools which a vet might use on a cat that required fillings. Amongst the manufacturing techniques he employs is photo etching, which enables him to produce; wire wheels, instrument panels and the like in remarkable detail, if your eyes were sharp enough to appreciate such minutiae, Tim's unwritten rule is 'If it's on the vehicle it's on the model".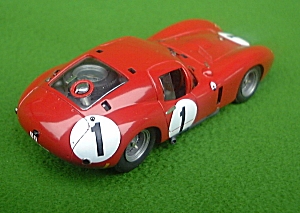 Tim said of his Birdcage, "Although I thought it a marvellous subject, it was probably beyond my capabilities". Tim did however cave-in under the mounting pressure from his patrons and eventually produced his masterpiece last year, just in time for 'Modelex' although they were all sold by then. Tim went on to describe, "The highly visible chassis of the Birdcage utilises 15mm and 1Omm tubing so you can imagine the delicacy of these in 1.43rd scale (0.35mm and 0.23mm). Previous attempts by other manufacturers to model this car at this scale had resulted in heavily over-sized white metal or over-sized photo etchings for the chassis tubes which never looked right to me". The Progetto 'K's and the Exems sprang to mind, I knew immediately what he was getting at. "Accordingly I set out to reproduce the chassis in 12thou. (0.31mm) brass, in the flat, painted it, then bent it up in origami fashion, to the correct configuration. Ever visible tube is there, even under the seats, the transmission tunnel and bellhousing". Another feature that's worthy of note is the treatment of the tonneau cover, Tim described that "The master for it, included sags and creases to the original photographic evidence, and required the development of a special new spraying technique and colour mix, which was devised to replicate the texture of the original fabric, and the insertion of some beautifully delicate photo etched fixing studs, which I bought from the States". These studs need a magnifier to see - unbelievable!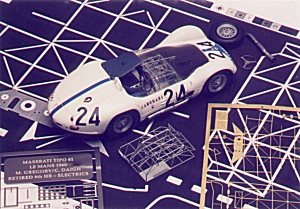 Tim's current list of clients reads like a compendium of who's who in the world of collectors, some who collect all of his models, others collect one make or even a single car, ranging from as far a field as: Japan, Australia, America and slightly closer to home Germany, France and Italy and of course one or two of the indigenous population.

'Four Small Wheels' the magazine of Grand Prix Models and the collectors bible, once described one of Tim's models as "absolutely stunningly beautiful and detailed - accurate too! This is one of the models of the year - any year". An array of adjectives, praise indeed when lavished by Mr. Brian Harvey of 'FSW'. Needless to say the models of M.P.H. because they are produced in such limited quantity, are much sought after and are in consequence an appreciating asset.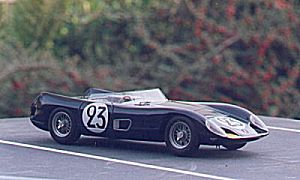 As a bit of a post script I would add that the company's name - M.P.H. does not stand for Miles Per Hour as one might assume, but is reminiscent of his beloved 1937 Riley MPH which he sold, some years ago, to pay school fees - what a parent - What a Modeller!