My 3200GT isn't feeling very well.
Can you help? Please!
Any owner having a problem with their Maserati can send me details and I will publish these, together with any subsequent advice I receive, on this page.
Just drop me a line at:-maserati123@btopenworld.com
Even if I don't succeed in helping you with your problems; and I do try, it would help other Maserati owners a great deal if you could let me know how you managed to solve your problems. THANK YOU!

Lui in Germany writes:
RE: 3200GT Front bumper removal:

"Hi Enrico,

Please can you help me with a problem with my 3200GT. I have to remove the front pumper because I have to check if I have a little hole in my cooler(radiator). Something is leaking but I dont know where it is and I don't know how to remove the front bumper.

Thanks Lui."

Reply from Enrico:
"Hi Lui,

I have attached the relevant pages from the 3200GT Vehicle Workshop Manual.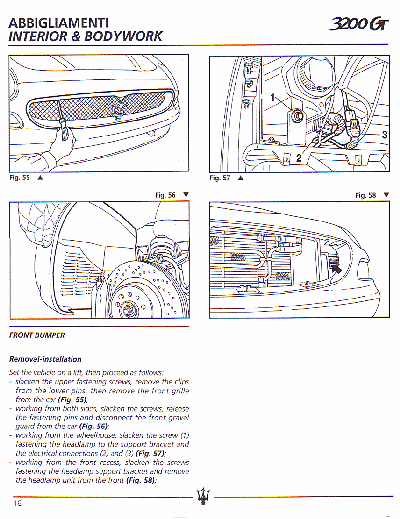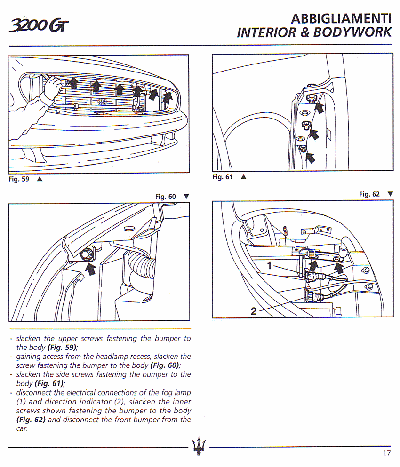 Regards,

Enrico."

Antony in the UK writes:
RE: 3200GT speaker system:

"Hi Enrico,

Excellent web site, congratulations!

My question is as to whether you might have sizing and hole spacing information for the speakers in the 3200GT... also possibly a wiring diagram for them.

Many thanks,

Antony."

Reply from Enrico:
"Hi Antony,

Here you will find the relevant page from the 3200GT Wiring Manual.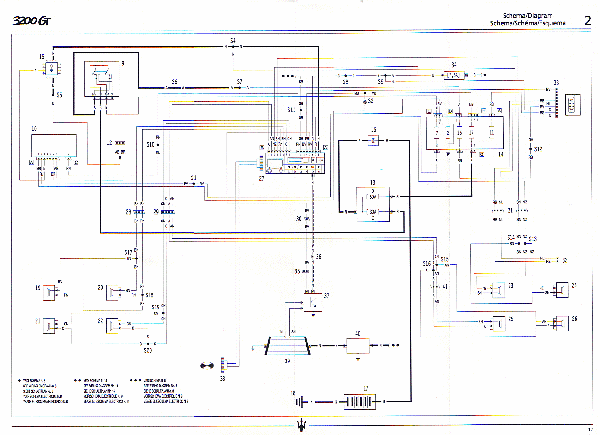 Regards,

Enrico. PS: Please let me know how you get on!"

Chris in the UK writes:
RE: 3200GT low oil pressure reading:

"Hi,

I have a 2001 3200GT Ė up until a few weeks ago the oil pressure was fine (hard over past 5psi on tick over).

Recently however, the pressure gauge has been dropping toward the 2.5psi mark on tick over (when warm). This seems to have been getting rapidly worse.

Does anybody have any experience of this? Iím hoping it isnít terminal crankshaft wear as the car has only covered 35,000 miles.

Chris."

Reply from Enrico:
"Hi Chris,

My first reaction is that, in view of the low mileage, it should be nothing more that a faulty oil pressure sender. But as I would not want to drive around in a car with that low an oil pressure reading, I suggest you take it along to your nearest Maserati dealer as soon as possible.

Regards,

Enrico. PS: Please let me know how you get on!"

Update from Chris:
"Regarding my recent query on low oil pressure the car went into my local main dealer and they checked the pressure readings with an accurate gauge connected directly to the engine, they say the readings were fine at both hot and cold but replaced the sender unit anyway (total cost £400) it has made no difference to the gauge readings but having done another 2k miles since I noticed the low readings and at anything over 1500 rpm it goes straight to 5 bar I guess I will just have to live with it, a local specialist said that as long as there is good pressure above idle and at least 2.5 on idle all should be well.

Chris."

George in Australia writes:
RE: 3200GT temperature guage:

"Hi Enrico,

Thanks for such a great website, hope you can help with my sick Maserati 3200, had this car for four weeks and it went like a dream until today. The temperature guage seems to die and come back alive intermittently whilst driving, every time it dies, the car losses power and sounds loud and hollow , runs out of tune and the revs go up and down between 1000 and 1500 RPM when stationary, I can only think that the engine temperature sensor is either faulty or affected by some electrical short especially as the battery voltage drops under 13V when this happens, could you tell me where the engine temperature sensor is and some procedure to test it, could it possibly be something else altogether?

Regards,

George."

Reply from Myles of Emblem Sports Cars:
"Hi Enrico,

I think George has a connection problem rather than a sensor failure but it is wise to eliminate the sensor first which is located on the front of the r/h cylinder head, vee side with a grey connector, so check it is connected properly and that there is resistance across the sensor.

I would then check that the engine loom running along the right side of the engine has not rubbed through anywhere causing a short, moving in to the car (assuming its RHD) above the throttle pedal is large blue connector check all pins for security in here this is the main plug for the engine wiring harness.

Failing all of that it might be a connection or failure of the bridge can ecu which converts all the information from sensors like engine temp, speedo etc in to readings on the dashboard but I think a trip to a Maserati Garage is required if it goes this far.

Hope this helps but it is difficult to fix this type of problem without seeing it, as Iím sure you can appreciate.

Best Regards,

Myles."

Robbie in the UK writes:
RE: 3200GTA automatic transmission fluid:

"Enrico,

Re: question from Alan regarding auto transmission fluid, I also had the problem of identifying the correct fluid as the original Tutela Multigrade LS recommended in the handbook is no longer available. It has been replaced by Tutela GI/E or GI/A (Maserati UK recommended GI/E but Maranello supplied me with GI/A).

Neither Castrol or Mobil have an alternative so you have to use the Selenia product. If you are lucky enough to live in Australia, where the gearbox was made, you can use Castrol TQ95, but this is not available in Europe! The differential uses Tutela Matryx, also no alternative from Castrol. Selenia do not have a mail order service so you will have to buy the oil from your local Maserati dealer as my local Alfa Romeo dealer told me they don't use these particular Selenia grades.

Bye the way, can you tell me where the drain plug is for the auto gearbox? I have not been able to locate it as it certainly is not where you would expect it - at the lowest part of the gearbox.

Regards Robbie."

Reply from Enrico:
"Hi Robbie,

Thanks for that.

There is no drain plug as such. Draining the fluid requires removal of the sump tray. Sounds like a very messy job to me!!

You will need a new sump gasket and the filler plug is somewhere on the off-side of the automatic gearbox. I don't have a parts manual for the 3200GTA, and apparently the parts manual doesn't give a decent illustration. David has sent me these photos illustrating the exact position of the filler plug.

"Hello Enrico,

It's fresh outside!

The fill-up and the level-check must be done using the rusty looking bolt, on the right-hand side of the gearbox, photos 1842/1843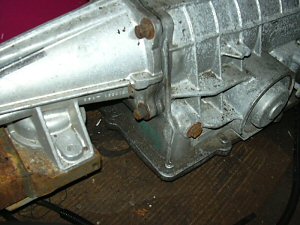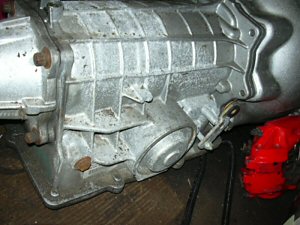 On the left-hand side are the oil pipe connections which go to the oil cooler.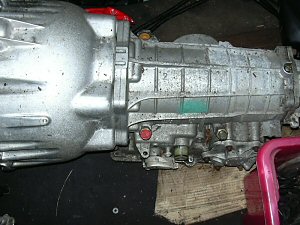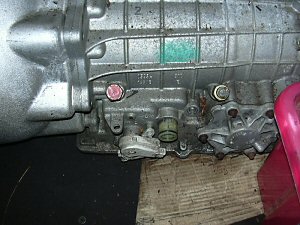 Have you not got a service manual for the 3200GT?

Hope you are both keeping well and happy!

All the best,

David."

Regards,

Enrico."

Graham in the UK writes:
RE: 3200GT seat adjustment:

"Hi,

Posted a while ago about seat backs not automatically moving seat forward when lever raised, and had Main Dealer resolve problem when in for recall. Have noticed in my newer 3200GT (am fairly sure this was not in the manual with my original 3200GT), a 2002 registered model, the manual gives the procedure for resetting the seats if they fail to work properly (i.e. in event of battery disconnect).

Procedure is:

Ignition key at STOP
Open door nearest seat concerned
Start following procedure within 5 seconds, and complete within 10 seconds
1) Move seat forward to STOP
2) Move seat backward to STOP
3) Move seat forward to STOP
4) Move seat backward to STOP
5) Lower seat-back thoroughly and wait for seat to make two complete travels (forward & backward)
6) Position seat to standard position

Also, my new 3200GT has Pirelli P-Zeros, previous one had Michelin Pilots. Am definitely finding the Pirellis to be more twitchy, so will probably replace with the Michelins. Anyone else with thoughts on tyres?

Keep up the good work, great web site with a growing amount of useful info!

Thanks,

Graham."

Reply from Enrico:
"Hi Graham,

Thank you so much for your input which I am sure will be appreciated by all 3200GT owners.

Regards,

Enrico."

Chris in the UK writes:
RE: 3200GT rear bumper removal:

"Hi Enrico.

Please can you help me with an issue with my 2001 3200?

I recently discovered that I had quite a bit of water in the spare wheel sump.

I discovered that water entered via the grommets which hold part of the loom for the rear lights. While I can seal these from the inside, I would prefer to seal from the outside to make sure this does not occur again.

The only problem is that they are located behind the rear bumper/diffuser. Please can you give advice on how to remove the bumper as I have found the four most obvious torque screws but have not been able to ascertain where the other fixings are and if there is a special technique.

Thanks for your help.

Chris."

Reply from Enrico:
"Hi Chris,

I have attached the relevant pages from the 3200GT Vehicle Workshop Manual.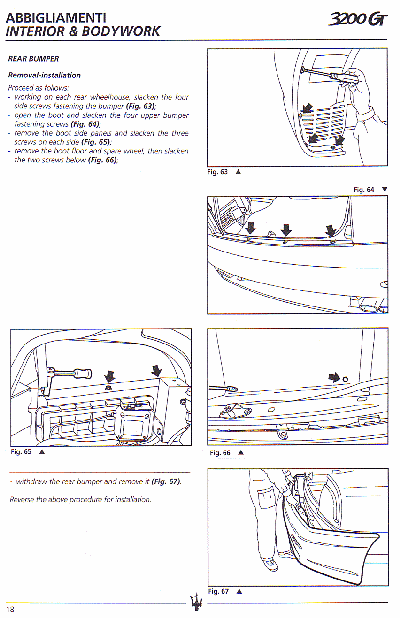 Regards,

Enrico."

Reply from Chris:
"Enrico.

Thanks very much for that. The pages only told half the storey. I had to undo the bracket bolts from underneath the car as the last instruction is completely wrong(at least for my 2001 car), the internal holes do not give access to anything and there are no bolts on the inside of the spare wheel recess.

Interestingly, having taken off the bumper, it now appears that the water was entering through the top four (visible) valance bolts so I didn't need to take it off in the first place (we live and learn). It would probably be useful for other owners to know that!!

Thanks again, you have been a great help.

Chris."

Alan in the UK writes:
RE: 3200GTA Automatic Transmission fluid:

"Enrico,

Can you tell me what grade/brand of auto transmission fluid is correct for my 3200GTA, 2000 model?

Thanks,

Alan."

Reply from Andrea:
"The OE spec is Tutela G1/E for automatic transmission. This is a type of oil sold by Fiat Lubrificanti specifically for Maserati and therefore not necessarily that easy to get on the aftermarket. However, your own supplier should be able to cross reference.

Regards,

Andrea."

Miket in the UK writes:
RE: 3200GT outside temperature sensor:

"Hi,

The Outside Temperature Sensor is reading about 5 degrees higher than the actual temperature.

Can you please let me know where the Outside Temperature Sensor located.

Thanks,

Allen."

Reply from Enrico:
"Hi Allen,

I think there should be a nipple under the exterior door mirror?

Here you will find the relevant page from the 3200GT Vehicle Manual.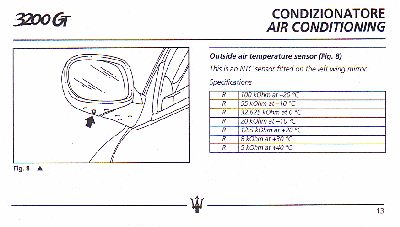 Regards,

Enrico."

Miket in the UK writes:
RE: 3200GT RED Key:

"The key has been placed with one of the service agents, which one has not yet been found by the vendor, I have said to the dealer selling the car that I will not be purchasing the car unless the red key is found.

I was wondering what does the red key enable you to do, is it for programming new keys etc and is it required to carry out some of the servicing.

Thanks for replying so soon great web site bought my 97 Quattroporte off it last year.

Keep up the good work,

Miket."

Reply from Enrico:
"Hi Miket,

I have attached the relevant pages from the 3200GT Driver's Manual.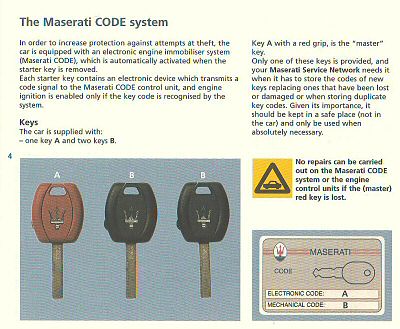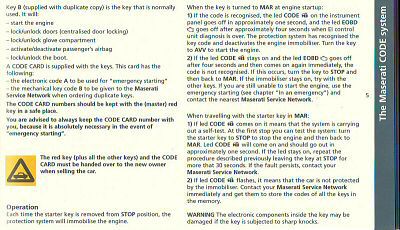 The rest is up to you. Perhaps a phone call to an authorised Masertati dealer will help!!!

Regards,

Enrico."

Graham in the UK writes:
RE: 3200GT RED Key:

"What is the disadvantage of buying a car with no red master key present?

what cost is involved in resolving any problems?

I am considering purchasing a 3200GT (manual) but the dealer is struggling to trace the key through the service agents and previous owners.

Thanks,

Miket."

Reply from Enrico:
"Hi,

Personally, I wouldn't touch a car that did not have the RED key.

If vthe car had been looked after there is no reason for it not having a RED key. Owners are specifically told in the Owner's Handbook the importance of this key.

To buy another key involves changing the ECU that controls the ignition and immobiliser and can cost upwards of £2,000.

Regards,

Enrico."

MORE 3200GT QUESTIONS AND ANSWERS