If you own are the lucky owner of a 'Ghibli Cup', I would appreciate your help. I am trying to ascertain the exact number of 'Ghibli Cups' produced. Please send me the series number of your 'Cup' along with the chassis number. I will publish my findings on this page when all 'Cups' are accounted for.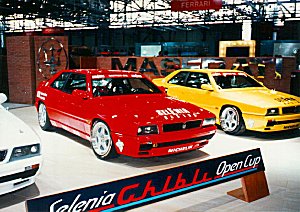 Many thanks to Paul Negyesi for his permission to use this photo and excerps of his text.
At the 1995 Geneva Motor Show Maserati exhibited the new Quattroporte, the Ghibli and the Shamal. Star of the stand was the Ghibli 'Open Cup' racing version.
In response to the disappointing sales of the new Ghibli II and in an effort to boost sales, new owners Fiat decided to launch the Selenia Ghibli Open Cup race series for 1995. The one marque race series was based on the Italian road car's 2-litre 306bhp engine with 25 Cups being built for one-marque championship (plus a further two for collectors at the end of the season).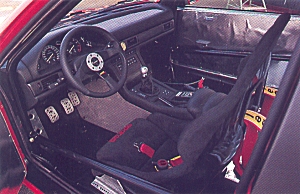 The Ghibli 'Open Cup' sold for L.120.000.000 (£48,000) with a further L.23,000,000 (£9,000) payable to enter the Championship. This fee covered all entry fees, tyres, circuit passes, Maserati race and paddock clothing and of course (if you'll excuse the pun) the excellent 'Maserati Hospitality'. Technical backup was provided to entrants by Maserati's chief engineer, Giorgio Gamberini. At the end of the season Maserati S.p.A. refunded L.10,000,000 (£4,000) to any driver that competed in all rounds and if the owners wanted, their cars were converted for road use and sold. To ensure competitive racing all engines were sealed before leaving the factory and regulations stated that the winning car in any race carried 25kg of ballast in the next race.
The 1995 race series consisted of 9 races, five of which were held simultaneously with DTM events.
The calendar for 1995 was as follows:
April 29 Imola (Italy)

May 21 Mugello (Italy) (DTM)

June 4 Helsinki (Finland) (DTM)

June 11 Nürburgring (Germany)

June 25 Zandvoort (Holland)

July 9 Donington (England) (DTM)

August 6 Estoril (Spain)

Sept. 3 Magny Cours (France) (DTM)

The 1995 series was a great success and a new series was planned for 1996. It is said that all competing cars finished the season without a single engine rebuild but the main cause of complaint amongst the drivers were the brakes, or lack of them!
To view the 1995 and 1996 results CLICK HERE!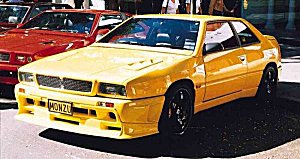 For the 1996 series nine races were planned starting at Monza in March and ending at Mugello in September. Eligible cars were the 1995 cars now carrying a Maserati upgrade kit and the new 1996 Ghibli Open Cup 'Evoluzione'. Cars had their engine, gearbox, turbochargers and differential sealed prior to delivery. As a further measure to promote competitive racing the winner carried 40kg of ballast in the following race. Grid positions were decided by a draw amongst the top six qualifiers.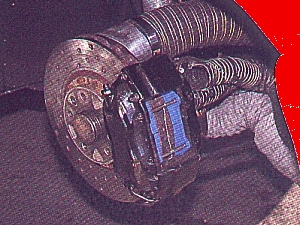 Modifications made for the new season included new silencers, don't laugh but apparently some drivers complained about the lack of 'noise'! A redesigned braking system included larger discs with bigger four-pot calipers. The larger brake discs required 18 inch wheels which were supplied by TechnoMagnesio. The front suspension was redesigned and was fully rose jointed, the rubber bushing being replaced. Aerodynamics were improved with a new lower front spoiler incorporating larger air intakes for improved cooling of the turbos and brakes together with a boot mounted rear spoiler. All competitors were supplied with six slicks or wets for each race.

The healthy L.390,000,000 (£160,000) prize fund ensured that the first 14 places received prizes ranging from L.6,000,000 (£2,400) to L.250,000 (£100). Trophies and cash prizes were to be awarded for a variety of categories including best gentleman driver, best lady driver, best gentleman driver over 50 and best driver under 25.
Everything was in place for a really successful season.
What happened? After two races Fiat pulled the plug as they considered the rising costs outweighed the commercial benefits.
The good news was that some lucky owners benefited from Maserati's decision to produce a road going version known as the 'Ghibli Cup'.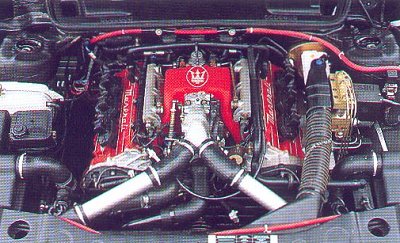 The 'Open Cup' 2-litre engine prepared by Maserati in conjunction with Alfa Corse and boosted to 330 bhp at 7000 rpm with new low friction ball-bearing turbocompressors fed by larger intercoolers, revised engine management system and straight through exhaust.



TECHNICAL DATA
ENGINE
Position
Front longitudinally mounted
Cylinders
No. 6V at 90º
Bore and stroke
82mm x 63mm
Cubic capacity
1990cc
Compression ratio
7.6:1
Maximum torque
275lb-ft at 4250rpm
Maximum power
330bhp @ 7000rpm
Turbochargers
No 2 IHI watercooled with roller-bearings
Intercoolers
No 2 air to air

Engine block and cylinder heads in light alloy with removable wet liners.

Water cooling by centrifugal pump.
Forced lubrication with full-flow filtering and cooling.
No 4 overhead camshafts.
No 24 valves, 4 valves per cylinder (2 intake, 2 exhaust).
Ignition with static, direct electronic with microprocessor control.

Fuel feed by Weber-Marelli integrated electronic multipoint fuel injection system.

GEARBOX
Getrag manual close ratio 6 speed + reverse / Rear wheel drive (Ratio 3.25:1).
DIFFERENTIAL
ZF / Final ratio: 3.90.
CHASSIS
Stress bearing monocoque construction.
SUSPENSION
Independent on all 4 wheels.

FRONT: Mac Pherson strut with stabilising bar, Bilstein hydraulic telescopic shock absorbers, Eibach springs and rose jointed.

REAR: Independent oblique arms, with welded tubular structure, stabilising bar and dual effect hydraulic telescopic shock absorbers.

STEERING
Hydraulic rack and pinion with double gearing servo.
BRAKING SYSTEM
Dual independent hydraulic circuits with servo.
ABS with 3-channel 4-sensor.
Front and rear ventilated cross-drilled discs with Brembo four-pot calipers.
Discs 355mm front and 313mm rear.
WHEELS
Speedline 'Allesio' modular alloys:- Front - 8"J X 17" / Rear - 9"J X 17"
TYRES
Front - 225/45 ZR 17 Rear - 245/45 ZR 17
PERFORMANCE
Maximum speed:
168mph / 270kph
Acceleration:
0-62mph 5.64secs
0-1000m 24.5secs
DIMENSIONS AND WEIGHTS
Wheelbase
2510mm
Front track
1515mm
Rear track
1510mm
Overall length
4215mm
Width
1780mm
Height
1272mm
Dry weight
1270kg
Numbers produced
22
ADDITIONAL FEATURES

Supplementary carbon air intakes feeding the radiator, the brakes and the larger intercoolers. Aluminium sump guard, modified fuel system with auxiliary pump and external fuel resevoir.

Michelin 'Pilot SX' slick or rain tyres.

Interior furnishings were lightened and adapted for racing with integral roll cage, single Sparco racing seat, 5 point TRW safety belt, Momo Corsa steering wheel, driver footrest and alloy pedals and gear lever knob.

Automatic fire extinguisher system and manual fire extinguisher. Aluminium fireproof lining for doors and rear passenger compartment and other safety features.

Most important performance innovation was that famous analogue clock!




TO RETURN TO 'Biturbo Model Guide Part V' CLICK HERE.




To enter Enrico's Maserati Pages CLICK HERE!

Copyright: Enrico's Maserati Pages - © 2000-2005. All rights reserved.