MASERATI COUPÉ - The History
by Jürgen Lewandowski
Published by Maserati SpA 2002
This book was published to commemorate the official launch of the new Maserati Coupé at the Detroit Motor Show of 2002.

There are editions with text in Italian, English, German and French.

The hard-backed book, no dust jacket, gives the brief history of the fabulous Sports Coupés produced by Maserati Spyders through the years, models like the A6 Pinin Farina, A6GCS Berlinetta by Pinin Farina, the A6G 54 by Zagato, the A6G 54 by Allemano, the 450 S Zagato, the 3500 GT, the 5000 GT Allemano, the Sebring 1a serie, the Sebring 2a serie, the Mistral, the the Mexico, the Ghibli, the Simun, the Indy, the Bora, the Khamsin, the Kyalami, the Biturbo, the Karif, the Shamal and the 3200GT. Surprisingly the Ghibli is omitted!

140 pages with many colour photographs of design details and a brief specitechnical fication of each model. Recommended!
Text in Italian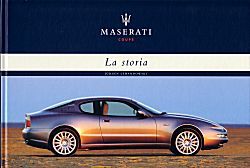 Text in English