Dei Ex Machina
La storia dalla Scuderia Centro Sud.
La mia autobiografia.

by Mimmo Dei

Published by Fucina Editore 2008

Softback. Contains 96 pages.

"Twenty five years after its drafting, the previously unpublished autobiography of Mimmo Dei, one of the more important and charismatic characters of Italian motor sport, will be arriving in your bookshop."
Text in Italian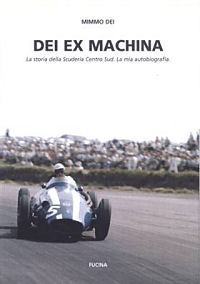 "Venticinque anni dopo la stesura, arriva in libreria l'inedita autobiografia di Mimmo Dei, uno dei personaggi più importanti e carismatici della storia dell'automobilismo sportivo italiano.

Nato pilota, poi diventato notissimo concessionario di Maserati sportive e da corsa, Dei è stato il creatore della leggendaria Scuderia Centro Sud, la prima e, fino agli anni Ottanta, unica scuderia privata tricolore a essersi distinta in F1. Attiva tra il 1956 e il '65, la Centro Sud ha aperto le porte del mondo dei Gran Premi a tanti giovani piloti, sia italiani sia stranieri, da Masten Gregory a Carroll Shelby, ma a uno su tutti: Lorenzo Bandini.

Mimmo Dei però non è stato soltanto un "malato" di motori. E' stato un uomo straordinario, un catalizzatore di idee, passioni e risorse. Ed è riuscito nell'impresa più difficile che sia consentita a un essere umano: inventare, dal nulla, se stesso. In questo libro racconta in prima persona la sua affascinante vita."


Born a driver, he then became the most famous Maserati concessionaire for sport and race cars. Dei was the founder of the legendary Scuderia Centro Sud, the first, and until the Eighties, the only private Italian team to distinguish itself in F1. Operational between 1956 and 1965, Centro Sud opened the door to the world of Grand Prix to many young drivers, both Italian and foreign, from Masten Gregory to Carroll Shelby, but to one above all: Lorenzo Bandini.

But Mimmo Dei was not only "mad" about engines. He was an extraordinary man, a catalyst of ideas, passions and resources. And, he succeeded in the more difficult undertaking that is consistent with a being human: to invent himself, from nothing. In this book he recounts, in person, his fascinating life.

This portrait format paperback book measures 14cm x 21cm (6ins x 8 ins) contains 96 pages with many illustrations. A must for any Maserati enthusiast.